When it comes to WordPress there are two options: have WordPress host your site/blog on their .org domain or you can load WordPress to your own domain.
Once you decide to load WordPress to your own domain (it's better – but that's another post) – there are two ways you can install it:  Download the actual file containing the application from WordPress.org and then upload to your site; or the much easier way, use Cpanel.
What Is Cpanel?
Many people have not heard of Cpanel.  It has been around at least as long as my website (2001) and continues to be a very practical way for web masters to control the administrative functions of a website.  By "administrative" I mean things like creating e-mail accounts, setting up page redirects; reviewing stats and other things like installing WordPress.
The following directions are for those of you who have Cpanel access to your website.  It's pretty easy to tell if your host supports Cpanel.  Just type your domain followed by /cpanel – so www.yourdomain.com/cpanel
If you have Cpanel access, a login screen like the one below will appear:

Those with Cpanel access now need to enter their login information.  Generally, this information is available in the welcoming e-mail when you signed up for your hosting account.  If you don't have that information handy, call your host and ask what it is.  You may need to verify you're you; but you should be able to get this information in less than a few minutes via phone.
For discount hosting, I recommend Host Gator (affiliate link here)   Get the "Hatchling" plan for a year which runs about $65.00 when you pay for 12 months at once.  By the way, if you can't afford $65.00 to invest in your domain/blog – disregard this post and go set yourself up on Blogger (which is free).
Now, I recommend Host Gator for a few reasons:
their servers are located in Texas – or on US soil.  Since that's where I'm located, I like to keep all my stuff within the same country so everyone in business has to play by basically the same rules.
they've been around a while and are still positively received.
they allow users to run the administrative functions of their site using Cpanel at no additional charge (creating e-mail accounts, adding redirects, checking stats); and
the ability to easily add WordPress for control of your site's look, content and public functions.
How to Install WordPress Using Cpanel
Depending on the version of Cpanel your host is running, you will be presented with various options for navigating behind your domain and controlling the administrative functions.  Hence, I can't give you a generic screenshot, but I can explain what to do to "install" WordPress:
After logging into the Cpanel:
look for the word "Fantastico" or a large blue smiley-face button.  Click on it.
Look down the left side of your screen for WordPress.  Click it.
In the form you are presented with, leave everything blank but the user name and password.  Enter a unique User ID and password.  Make sure the information is different than your Cpanel login intel.  The password should be at least 8 keystrokes long, contain upper and lower case letters with a number or two thrown in for good measure.  Consider it a pass phrase and the longer the better.  Remember this is access to your WEBSITE – so make the password strong! Click install.
You're done!  Honestly.  Now wasn't that easy?
To make sure it all worked correctly go to www.yourdomain.com/wp-admin
You should see a WordPress login screen like this: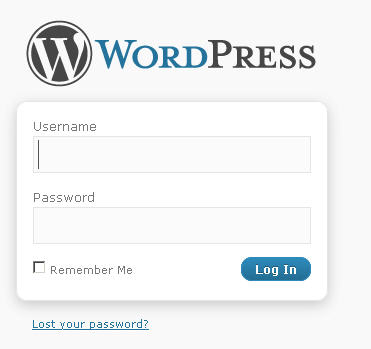 Use the login credentials you just created when installing WordPress.  To Da!  You can now control the look and functions of your website from within WordPress, using themes such as Thesis and Headway (affiliate link here).
What is a Theme?
One of the reasons WordPress is so popular is because the design of your site can be controlled by a theme.  A theme is all the coding required to make a site look a certain way – so once you select a theme, your look is done.  Literally, two clicks to install.  Then just add words and your site is good to go.
Don't Want To Go It Alone?
WordPress communities and forums are available to help.  The WordPress support pages have several guides for getting started and troubleshooting and there are a number of videos on YouTube as well.
There are also virtual assistants who specialize in WordPress.  One of my favorite WordPress VAs is Tina Marie Hilton over a www.clericaladvantage.com.  Tina not only knows WordPress like the best of them, she's been working with the Headway theme for a very long time.  She's quick, smart and funny.  What's not to like?!
As I have mentioned in previous posts, there are many ways (programs and what not) to create a website – some much more intuitive than others.  I think the easiest program to pick up sans training is WordPress.
Do you agree/not agree?  Let me know in the comments below.