Normally,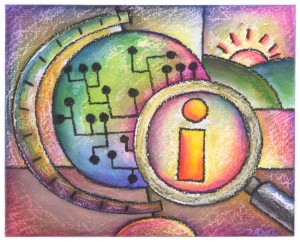 I don't care what personal mobile device a person uses.  I go so far as to call myself tech agnostic.  I work with anything and arrange my tech/services around what my clients use/have configured.
That said, most people who know me, know I don't recommend the iPhone for business.  The iPhone is a consumer class device and when it first came out, it really wasn't very useful in business.  Heap on the cost to purchase one and the fact that tech-wise, AT&T's network couldn't support the huge demands the devices sucked out of their equipment, and the iPhone really had a lot stacked against it.
Not being very useful (in the beginning); not being able to use them from any network other than AT&T (until recently) and the hefty cost are generally the reasons I gave to people who would ask – that simply put there were better, faster and cheaper options to get mobile.
It wasn't until after meeting digital security expert/forensic evaluators Sharon Nelson and John W. Simek at Techshow several years back, that I learned iPhones were not only expensive and unreliable, but that they also hold and store a lot more information than just cell tower locations.
As confirmed at this year's TechShow, iPhones are not just tracking your location, they are also capturing much more user information and storing that information on the device itself.  When asked what type of information he's personally been able to recover from an iPhone, John responded:
We've been able to retrieve items such as call logs, address book (contacts), GPS data, text messages, screen shots (happens whenever the home button is pressed), pictures and even voice messages (visual voice).
Now, I know you are all thinking "Well of course he can, he's a forensic evaluator after all!".  True, but also according to John, you do not need special programs or even skills to crack an iPhone and get at all that information it is quietly capturing/storing.  See: Why Lawyers Shouldn't Use the iPhone – A Security Nightmare (opens .pdf file).
Additionally, it's not so much that I worry that iPhone users are all going to get sued, be in accidents, get divorced or endure any other life event which would make this intel of value to those who literally know what they are looking for and how to use it (for OR against), it's the mere fact that it is going on.
As someone who helps US based law firms set up a secure digital workflow, and as a VA who has been educating fellow virtual assistants about privacy and confidentiality issues for many years, I am enjoying the recent attention that the iPhone tracking matter has given to the issue of personal privacy.
I think privacy is an issue that frankly, very few are paying attention to, and so many more need to understand.   If you'd like to get up to speed quickly, take a tour of the Electronic Frontier Foundation (EFF) website, then donate or get involved.  Digital privacy is important to us all!
Back to iPhones – here's a few more interesting articles/links John provided:
iPhone Forensic Expert Reveals iPhone Takes Screen Shots; Provides a Fix To Disable.
Researchers Get Access To Passwords Stored In Locked iPhone In 6 Minutes