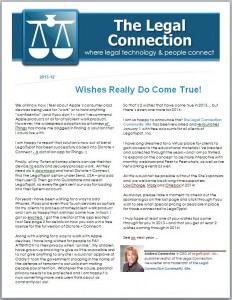 The public version of the December 2013 Issue of The Legal Connection Newsletter is now available! December's theme is 'wish'.
*  Wishes Really Do Come True! – Andrea Cannavina
*  Service Announcement – LegalTypist Works with iThings
*  I Wish for Manners – Justin Meyer
*  Legal Business Development Infographics – Julie Fleming
*  Happy Holidays from The Rural Lawyer
*  Wish -Trippe Fried
* Legal Event Calendar <-NYC Lunch Meet Up is February 5
Subscribe to The Legal Connection list to receive the private version, which may include specials and contests not offered to the public, by clicking here.
Andrea Cannavina, Editor+
T: 866-848-2195 x101 | E: andrea@legaltypist.com
www.legaltypist.com | www.andreacannavina.com