My Personal Observations As Long-time Attendee of LTNY's Expo Hall:
Contrary to the posts of all the vendors – and those mining the event for their own purposes – I can confidently tell you that the hallways were not jammed, the Expo Hall was not at all electric; most of the people in the Expo Hall were booth staff/vendors, and most of them looked bored and about as exciting to speak with as a goldfish.
I guess I could have written a piece about how the booth staff MUST be sexist like this piece of crap, however, I attribute the writer's experience to several things:
how about most of the people there already know and have already formed opinions about whether or not she is only in the room to further her own interests; or
perhaps they just got confused and thought she had taken off the vendor tshirt she normally wears when manning the company booth and decided to walk around a bit.
Then there's my take on it – they are bored and young – with absolutely NO people skills.
Back to LNTY – I've reported about how attendance has been dropping for years.  I know I miss the days of the coffee lady screaming out at the top of the escalator, all the big wheels spinning and bells ringing … the almost circus-like atmosphere of only a few LTNY's ago.  All have been replaced by plush carpets and hushed voices, and a lot of empty booths manned only by a sign to drop your card in a bowl to potentially win an isomething or portable video camera.
Sad to see that so many past strong exhibitors are gone. The solid products used at large firms along with those aimed and the solo/small firm market.  A peek at the sponsorship board is all you need to see how empty the event has become: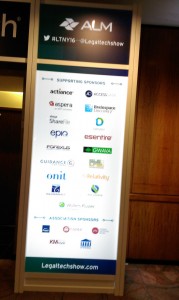 On the plus side there were a few newer exhibitors of value to those who work at law firms.  For instance, Konica-Minolta, the copier company that Mr. LT has been a part of for longer than I have been LT had a large booth.  FYI, I have long recommended the BizHub line from Konica Minolta – due to its ability to keep everything nice and secure.
Another newer exhibitor would be the file sharing service, ShareFile by CiTRix.  I got to have a lively conversation with John T. McHugh about just how secure their processes and tech are and I have a follow up call set to discuss their product further and how it can help attorneys and perhaps the users of LegalTypist.
Even though significantly smaller, LTNY is still really a show that focuses on ediscovery that hooks a few non-ediscovery characters into the mix – including a booth allowed to bring in a pen full of puppies in order to lure in their prey (and I thought the mime scared me)!
Seriously, this booth was staffed by smiling people in orange shirts and purported to help attorneys manage their law firms.  After hearing the process by which candidates are screened – I mean, get the privilege to sign up … and after meeting the guy paying for the booth face to face, I can solidly and confidently throw out the yellow caution flag to any and all attorneys.  Do yourself a favor and spend 15 minutes on the phone with me  – I won't charge you $1,000s nor make you travel – but I may just stop you from spending your time and money on such oddly structured – almost direct sales type tactics. <-probably the nicest thing I can say there…
So I guess what I have to say about LTNY is that I won't be back; there is no need.