I am very excited to welcome our newest sponsor for The Legal Connection Community Site.  Many thanks to: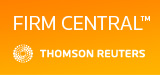 FIRM CENTRAL, the mobile-enabled, securely hosted practice-management solution for solo and small firms, by Thomson Reuters.
We acknowledge and appreciate the support  of Thomson Reuters' Firm Central and the on-going support it brings to our members, practicing attorneys and their staff.
About our Sponsor:
Firm Central securely connects attorneys and their staff to the documents, data, files and research necessary to get the work done – all from one easy log on. Firm Central keeps firm information and client data safe and secure, while readily accessible to authorized users 24/7.  It simplifies law practice processes, relieving firms of the expense and busy attorneys of the stresses involved with establishing, configuring and securely maintaining on site equipment and software.
About The Legal Connection:
The Legal Connection is where attorneys and those who work in legal gain fresh ideas and practical insights to streamline processes and sharpen the practical skills necessary to conduct the business of law on and through the web.
Thank you Firm Central for your support of The Legal Connection!
Are you interested in reaching attorneys, their staff and those in the legal IT community? The Legal Connection Community Site has many options and levels of sponsorship and welcomes all who wish to contribute! For more information, contact me at andrea @legaltypist .com